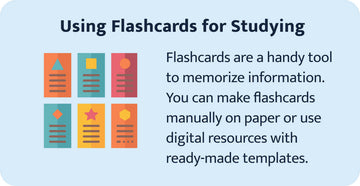 Flashcards are little note cards used to analyze and develop memory by practicing information recovery. On most flashcards, the prompt comes on one side whereas the information about the prompt is on the other. Methods, and concepts, they may also be words or names. Typically, flashcards represent a group of information that you're trying to study, retain, and master. There are a variety of flashcards for kids available online at Cots and Cuddles, which are specially designed to make education and knowledge more accessible to children.
1 ) Is flashcards a good way to study?
Flashcards are an excellent and innovative teaching tool since they can be utilized in a variety of ways. While many students think of them as aids for learning simple facts, they can also be used to address complex problems throughout a student's academic career, beginning in elementary school.
If utilized effectively and your baby or preschooler responds well to flashcards, the following advantages can be realized:
It enhances your child's cognitive growth
They will become more conscious of the environment around them.
Flashcards strengthen your kid's fine motor skills.
It increases their self-confidence by stimulating their thinking.
However, flashcards may not be appropriate for every child because, as adults, each child is unique in every way, including how they learn.
2) Where to buy flashcards for studying?
The traditional teaching method is rapidly evolving into an interactive mode. Flashcards are the latest craze. No words are better for energizing the right brain and increasing visual memory than Flashcards, which are large, bright visuals with no words. Teaching toddlers or even high school students or college students using flashcards is reasonably simple. At the same time, children can remember and retrieve information from flashcards in a short period. These days, almost all preschool toddlers choose to use flashcards.
It's critical to select the correct flashcard. Cots and Cuddles conducted research into early childhood education needs and created some excellent topic-based flashcards. These flashcards are of exceptional quality, with most having a plastic coating that is both child-safe and non-teachable. The child's attention is immediately drawn to the bright and vibrant colors. Our children's flashcards are built so that the linguistic brain processes words efficiently on the left side of the brain.
Preschool our children's flashcards. According to the teachers, our flashcards are one of the best variants they have seen. It helps keep small children's attention and makes it easier for them to acquire and recall knowledge.
The fundamental cards include alphabets and numbers, animals and birds with their young, and sounds. They also have flashcards with flags from other nations, phonics, prayers, time, modes of transportation, animal classifications, and persons who assist us, among other things.
3) How to memorize flashcards effectively?
Even though it appears simple, remembering and recalling a flashcard may not be easy for everyone. A few strategies make learning with flashcards so quick that kids won't even realize you're teaching them. Instead, children will believe that you share information with them and play with them.
Step 1: Make a list of the major points and sub-points:
It's critical to have a technique for identifying the major ideas before you start generating flashcards or execute the process to memorize them for kids or students of any age.
Frequently, study materials are jam-packed with hints. And in the case of children, the scope is enormous because they are unfamiliar with the subject. It's crucial to understand how to examine and limit your information sources.
Step 2: Select the Correct Flashcard Sizes
In most cases, 35 is a suitable size. It allows you to concentrate on recording only the most essential details. However, you may need to try out a few other sizes first before you decide what size is appropriate for your kids. The best is to use your judgment and experiments. Bright colors and familiar images pique a child's interest more quickly. They can remember and retrieve these details. Multiple flashcards with a single piece of information produce better results than a single card with a lot of data.
Step 4: Combine words and drawings
It's easy to become fixated on employing words while learning to study with flashcards. Using illustrations and drawings has a longer-lasting effect. Even the slightest sketches or photographs might aid in remembering information.
Step 5: Create puzzles for your brain to solve in step five.
The most common issue people have with flashcards is note repetition. This occurs when people utilize the cards to repeatedly expose themselves to the material, eventually becoming bored with it. Instead, use keywords and visuals to allow the brain to fill in the blanks. These serve as games, and retaining even tough information is enjoyable. Such puzzle-based learning is appealing to children. This easy flashcard generation approach can harness the power of active recall.
Step 6: Utilize the Multisensory Imagination of kids to Work
Even though flashcards place a lot of emphasis on our hands and eyes, we don't want to neglect our creativity. Including at least these experiences as you construct your cards and the links that will help kids remember definitions and essential terms.
Step 7: As you teach using your flashcards, ask questions and make the questionnaire a fun
Rather than passively moving through the cards, asking questions can help.
Concentrate on the hints and figure it out vocally. It's critical to involve the tongue to aid the processing outcome stages to be harnessed. Teachers can keep a memory journal in addition to talking and responding to their cards aloud. This will increase the depth of a kid's brain's processing of the contents being taught.
Specially designed flashcards for kids from Cots and Cuddles help you take advantage of short periods that are available the entire day or week and schedule study sessions from a time-management standpoint.