Cots and Cuddles - Blogs
Nurturing Harmony: A Guide to Managing Sibling Relationships for Mothers
by KIRTI RATHORE on Jun 24, 2023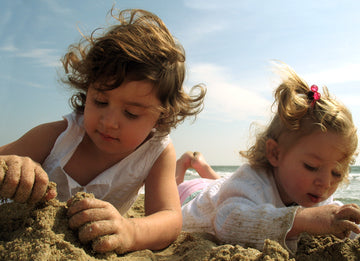 Introduction:
Sibling relationship refers to the bond and interaction between brothers and sisters who share at least one biological or adoptive parent. It is a unique and enduring connection that begins from childhood and extends throughout the lifespan. Siblings are individuals who grow up together, share family experiences, and often have a deep emotional connection. Sibling relationships can vary in nature, influenced by factors such as age differences, gender, personality traits, and family dynamics. These relationships can be characterized by love, support, companionship, shared memories, and a sense of belonging. Siblings can be each other's confidants, playmates, and sources of emotional support during both joyful and challenging times.
The sibling relationship plays a vital role in a child's social and emotional development. Siblings learn important life skills through their interactions, such as cooperation, conflict resolution, negotiation, and empathy. They also provide opportunities for learning about sharing, compromise, and understanding different perspectives. Siblings can influence each other's behavior, attitudes, and beliefs, shaping their identities and social interactions outside the family unit. While sibling relationships can be incredibly rewarding, they may also experience challenges and conflicts. Sibling rivalry, jealousy, competition for parental attention, and differences in personalities or interests can sometimes strain the relationship. However, with effective communication, parental guidance, and nurturing, siblings can navigate these challenges and build stronger bonds.
Sibling relationships have the potential to be lifelong connections that provide emotional support, shared history, and companionship. As siblings grow into adulthood, their relationship may evolve, but the bond formed in childhood often remains an essential part of their lives. Sibling relationships play a crucial role in a child's development, starting from a very young age. For mothers of babies between 1 to 2 years, nurturing a healthy sibling bond can be both rewarding and challenging. In this blog, we will explore effective strategies and solutions for managing sibling relationships during this crucial developmental phase. From understanding common problems to fostering positive interactions, let's dive into the world of sibling dynamics and discover how to create a harmonious environment for your little ones.
Understanding Sibling Dynamics
1.1 Definition and Importance of Sibling Relationships:
Sibling relationships refer to the bonds and interactions between brothers and sisters. They are unique and influential connections that have a lasting impact on a child's social, emotional, and cognitive development. Siblings often share a deep bond characterized by love, companionship, rivalry, and support. Research has shown that positive sibling relationships contribute to various aspects of a child's well-being, including improved social skills, emotional regulation, and empathy. Siblings can serve as playmates, confidants, and sources of emotional support throughout life. Understanding the importance of sibling relationships helps parents appreciate the significance of fostering a healthy connection between their children.
1.2 Developmental Stage: 1 to 2 Years:
The developmental stage between early years is a crucial period for siblings' dynamics. During this phase, babies experience significant cognitive, emotional, and physical growth. They develop a sense of self and become more aware of their surroundings. However, they may also struggle with emerging independence and limited communication skills, which can impact their interactions with their siblings.
At this age, babies are discovering their individuality and asserting their preferences. They may exhibit possessiveness over toys, seek attention, and engage in exploration. Sibling dynamics during this stage are influenced by factors such as developmental milestones, temperament, and parental guidance. Parents should be aware of the unique challenges faced by babies aged 1 to 2 years when it comes to sharing, communication, and understanding emotions. By understanding the developmental context, mothers can effectively navigate and manage sibling relationships during this critical phase of growth.
Common Problems Faced by Mothers
2.1 Jealousy and Sibling Rivalry:
Jealousy and sibling rivalry are common challenges that mothers face when managing sibling relationships, especially with babies of younger ages (1 to 2 years). Jealousy arises when a child feels threatened by the attention and affection given to their younger sibling. Sibling rivalry, on the other hand, involves competition and conflicts between siblings for resources such as toys, parental attention, or affection.
It's important for mothers to recognize the signs of jealousy and sibling rivalry, such as increased aggression, tantrums, or regression in behavior. These problems can be caused by the child's perception of a loss in parental attention or the fear of being replaced by the younger sibling. Addressing these feelings of jealousy and rivalry requires open communication, reassurance, and validation of the child's emotions.

Strategies for managing jealousy and sibling rivalry include:

- Individual attention: Allocate quality one-on-one time with each child to make them feel valued and special. This can help alleviate feelings of jealousy and promote a sense of security.

- Encouraging cooperation: Foster a cooperative atmosphere by involving both siblings in activities that promote teamwork and shared responsibilities. This can help them see each other as allies rather than competitors.

- Positive reinforcement: Praise and reward positive behaviors, such as sharing, taking turns, and showing kindness towards one another. This encourages the development of empathy and positive sibling interactions.
2.2 Attention Seeking and Sibling Interactions:
Babies aged 1 to 2 years often exhibit attention-seeking behaviors, which can disrupt sibling interactions. The younger sibling may resort to negative behaviors or act out to gain the attention they desire. This can lead to frustration and conflict between the siblings.

Mothers can address attention-seeking behaviors by:

- Balanced attention: Aim to divide your attention between both children equally. It's important to provide individualized attention to each child while also creating opportunities for them to interact positively with one another.

- Encouraging sibling interactions: Facilitate age-appropriate activities that encourage siblings to engage and play together. This can foster bonding and reduce the need for attention-seeking behaviors.

- Setting boundaries: Establish clear boundaries and guidelines for behavior, ensuring that each child understands what is expected of them. Consistency in discipline helps children understand acceptable behavior and reduces attention-seeking actions.
2.3 Sharing and Cooperation Challenges:
Sharing and cooperation can be particularly challenging for babies aged 1 to 2 years. At this stage, children are still developing their social skills and understanding the concept of sharing can be difficult. This can lead to conflicts and frustration between siblings.
To address sharing and cooperation challenges:

- Teach and model sharing: Show your children the importance of sharing by modeling the behavior yourself. Encourage turn-taking and sharing toys or resources, reinforcing the idea that sharing brings joy and strengthens their bond.

- Patience and guidance: Be patient when teaching your children to share and cooperate. Provide guidance and offer praise when they exhibit positive sharing behaviors. It's important to remember that learning these skills takes time and repetition.

- Distraction and redirection: When conflicts arise over sharing, provide alternative activities or distractions to redirect their attention. This can help diffuse the situation and prevent further disagreements.

By addressing these common problems faced by mothers, they can lay the foundation for positive sibling relationships. Understanding and actively managing jealousy, attention-seeking behaviors, and challenges with sharing and cooperation can promote a nurturing and harmonious environment for both the older and younger siblings.
Effective Strategies for Managing Sibling Relationships
3.1 Promoting Bonding and Positive Interactions
Building a strong bond between siblings is essential for fostering a positive and supportive relationship. Here are some strategies to promote bonding and encourage positive interactions:

a) Sibling Bonding Activities: Plan activities that allow siblings to spend quality time together. This can include age-appropriate games, arts and crafts projects, or outdoor adventures. These shared experiences help create a sense of camaraderie and strengthen their connection.

b) Joint Playtime: Encourage siblings to engage in joint playtime, where they can explore and have fun together. Provide them with toys or games that promote cooperation and teamwork. This can include building blocks, puzzles, or cooperative board games. Encourage them to take turns, solve problems together, and celebrate each other's successes.

c) Storytelling and Reading: Engage siblings in storytelling and reading sessions. Encourage the older sibling to read stories to the younger one, fostering a nurturing dynamic. This activity not only promotes literacy but also strengthens their bond as they engage in a shared experience.
3.2 Establishing Fairness and Individual Attention
Ensuring fairness and giving individual attention to each child helps prevent feelings of resentment and jealousy. Consider the following strategies:

a) Fair Division: Teach siblings about the concept of fairness and help them understand the importance of taking turns and sharing. When conflicts arise over toys or resources, encourage them to find compromises and negotiate solutions. This empowers them to develop problem-solving skills and promotes a sense of fairness.

b) Special Time for Each Child: Allocate dedicated one-on-one time for each child. This allows them to feel valued and appreciated as individuals. During this time, engage in activities that align with their interests and offer undivided attention. This practice helps strengthen the parent-child bond and reduces attention-seeking behaviors.

c) Acknowledge Individual Achievements: Celebrate and recognize the unique achievements and milestones of each child. This includes praising their efforts, accomplishments, and strengths. By acknowledging their individuality, you instill a sense of self-worth and reduce competition between siblings.
3.3 Communication and Conflict Resolution
Effective communication and conflict resolution skills are crucial for managing sibling relationships. Consider the following strategies to promote healthy communication and resolve conflicts:
a) Active Listening: Encourage siblings to actively listen to each other's thoughts, feelings, and concerns. Teach them to use "I" statements to express themselves and avoid blaming or accusing language. By fostering active listening, you promote understanding and empathy between siblings.

b) Mediation and Problem Solving: When conflicts arise, guide siblings through the process of problem-solving. Encourage them to communicate their needs and help them brainstorm mutually beneficial solutions. By involving them in the resolution process, you teach valuable conflict resolution skills and promote cooperation.

c) Encourage Apologies and Forgiveness: Teach siblings the importance of apologizing when they make mistakes and encourage them to forgive each other. Modeling forgiveness and offering guidance on repairing relationships helps them understand the value of empathy and compassion.

Remember, consistency is key when implementing these strategies. It takes time for siblings to develop a strong bond and learn effective communication skills. Be patient, provide guidance, and reinforce positive behaviors. By actively fostering bonding, fairness, and open communication, you can create a nurturing environment that supports healthy sibling relationships.
Section 4: Creating a Supportive Environment
4.1 Parental Role and Modeling Behavior:
Parents play a crucial role in shaping sibling relationships by serving as role models for their children. Children observe and learn from their parents' behavior, so it's essential to model positive interactions and communication. Demonstrate empathy, kindness, and respect towards each child and encourage them to treat one another with the same values. Avoid favoritism and strive to provide equal attention and affection to each child, reinforcing the notion that they are equally valued members of the family. By displaying fairness, understanding, and empathy, parents set the foundation for their children to develop healthy relationships with their siblings.
4.2 Encouraging Empathy and Emotional Intelligence:
Empathy is a fundamental skill that fosters understanding and strengthens sibling relationships. Encourage your children to recognize and understand each other's feelings. Teach them to express empathy by actively listening, acknowledging emotions, and offering comfort and support. Help them identify and label their own emotions as well, as emotional intelligence plays a vital role in managing conflicts and resolving issues peacefully. By nurturing empathy and emotional intelligence in your children, you equip them with valuable tools for building strong sibling bonds and developing healthy relationship skills that extend beyond their family dynamic.
4.3 Seeking External Support and Resources:
Sometimes, managing sibling relationships can be challenging, and it's okay to seek external support and resources to navigate through difficulties. Consider joining local support groups or parenting classes where you can connect with other parents facing similar challenges. These platforms provide opportunities to share experiences, gain insights, and learn effective strategies for managing sibling relationships. Additionally, there are numerous books, articles, and online resources available that offer expert advice and guidance on sibling dynamics and resolving common issues. Seeking professional guidance from therapists or counselors who specialize in child development can also be beneficial in addressing specific concerns and developing personalized strategies to create a supportive environment for your children.

All in all, creating a supportive environment for siblings involves parents actively engaging in positive role modeling, nurturing empathy and emotional intelligence, and seeking external support when needed. By embodying values of fairness, empathy, and respect, parents set the stage for siblings to develop loving and harmonious relationships. Encourage open communication, provide opportunities for shared experiences, and promote an atmosphere of understanding and support within the family. Remember, each child and sibling relationship is unique, so be patient, adaptable, and consistent in your efforts to create a supportive environment that fosters strong sibling bonds.
Conclusion:
Managing sibling relationships during the critical phase of 1 to 2 years requires patience, understanding, and proactive strategies. The sibling bond that develops during this stage lays the foundation for future interactions and sets the tone for their relationship as they grow older. By promoting positive interactions, addressing common problems, and creating a supportive environment, mothers can nurture a healthy sibling dynamic that will benefit their children throughout their lives. Throughout this blog, we have explored various aspects of managing sibling relationships for mothers of babies aged 1 to 2 years. We started by understanding the definition and importance of sibling relationships, recognizing their impact on a child's emotional development. We then delved into the specific developmental stage of 1 to 2 years, acknowledging the unique challenges and milestones that influence sibling dynamics during this period.

We discussed common problems faced by mothers, including jealousy and sibling rivalry, attention-seeking behaviors, and challenges related to sharing and cooperation. Recognizing these issues is crucial for effective management and finding appropriate solutions. Strategies such as addressing feelings of jealousy, balancing attention between siblings, and promoting cooperation through age-appropriate techniques can significantly improve sibling relationships. Furthermore, we explored effective strategies for managing sibling relationships, emphasizing the promotion of bonding and positive interactions. Encouraging shared experiences, playtime, and age-appropriate games can help strengthen the connection between siblings. Establishing fairness and individual attention is also important, as it ensures that each child feels valued and understood.

Communication and conflict resolution skills are vital in managing sibling relationships. Teaching young children effective communication techniques and providing them with tools to resolve conflicts constructively can foster understanding and reduce tension. By modeling positive behavior and promoting empathy, kindness, and respect, parents play a crucial role in shaping their children's interactions and strengthening sibling bonds. Creating a supportive environment involves nurturing empathy and emotional intelligence in children. Encouraging them to understand and consider each other's feelings and perspectives builds a foundation for healthy communication and conflict resolution. Additionally, seeking external support and resources, such as support groups and professional guidance, can provide valuable insights and strategies to navigate the challenges of managing sibling relationships effectively.

In conclusion, managing sibling relationships during the critical 1 to 2-year-old phase requires a multifaceted approach. By implementing the strategies discussed in this blog, mothers can foster a positive sibling dynamic, nurturing a bond that will last a lifetime. Remember that every child and family is unique, so adapt these strategies to fit your specific circumstances. With patience, understanding, and a commitment to creating a supportive environment, you can guide your children towards a strong and loving sibling connection that will benefit them throughout their lives.